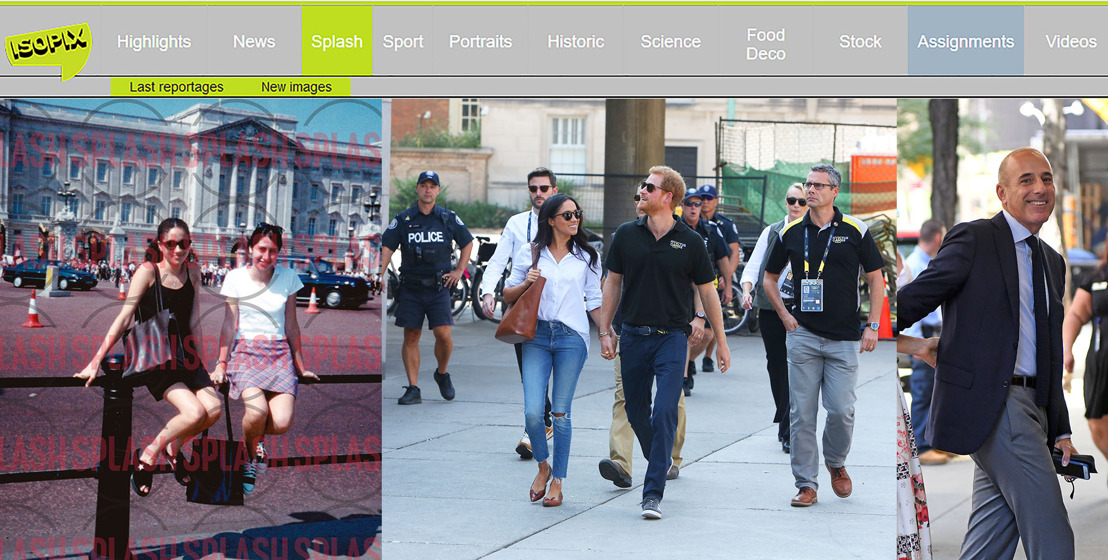 Starting the New(s) year with a Splash
Isopix becomes the Belgian distributor for Splash News and Splash TV, the reference agency for entertainment images and videos.
Wednesday, January 3, 2018 — Splash News and Splash TV, the world's leading celebrity news agency has signed a distribution agreement with Isopix. For Belgium, Isopix becomes the reference partner for delivering celebrity images, videos and stories to publishers.
Through the distribution of Splash News and Splash TV, Isopix strengthens its position as the reference photo agency in entertainment, able to provide specific content on the stars lifes, for example : the latest news about the Kardashian family, Amal and George Clooney arriving at the UN building in New York, Madonna with her daughters Esther and Stelle arriving at JFK or Justin Bieber enjoying his time off for the season's holiday. Whatever the event, Splash News covers it all by having offices in London, New York, Miami, Sydney, Berlin, Milan and Los Angeles.
Images will be available on the Isopix website but can also be seen on the Splash News website. Ask today for your logins and passwords if you don't already have them!
With a daily exclusive feed to Isopix of more than 300 sets of pictures and videos daily, the collection provides our customers with an exhaustive coverage of the world of celebrities. Updated in real time, the collections allow you to stay tuned with the latest star stories and help you to provide the most accurate news to your readers. Splash News also offers you a complete archive of the life of the celebs. And you can also build your fashion pages as Splash News is archiving what the celebs wear!
Motion is a large part of the collection as well. For broadcasters or for news websites, video helps professionals gain more visitors and thus more clicks.
All pictures and videos are also available through single image sales or through subscription. We aim at finding the solution that fits in your strategy. Get in touch with our teams to define your needs and get a quote.
Adrian Murrell, Managing Director UK, is delighted about this agreement: "Isopix is providing a strong home for our collection and has a good understanding of the Belgian market. I believe that customers will benefit from innovative solutions for their multiple celebrity image needs".
Paul Marnef, CEO and founder of Isopix is equally delighted about this new step for Isopix: "We are extremely pleased about the distribution of Splash News. Isopix is becoming the place in Belgium for celebrity images and we aim at responding to the needs of multiple potential customers with relevant selections at innovative commercial conditions".
You can stay tuned at any time by following us on Social Media:
For Splash News: Instagram, Facebook
For Splash TV: Instragram, Facebook
For Isopix: Instagram, Facebook
ABOUT SPLASH
Splash was founded in 1991 by Fleet Street reporters Kevin Smith and Gary Morgan in Los Angeles. It now boasts offices around the globe with editorial and sales teams in London, New York, Los Angeles, Miami, Australia and in Berlin and Milan. Think celebrity news? Think Splash.
For more than 25 years, Splash News has worked alongside world acclaimed entertainment photographers to provide a central source for the best imagery available. Splash News provides publishing professionals with striking images, unrivalled in quality, accuracy, and depth of information. With an archive of more than 24 million images, the feed is enriched with thousands of new submissions uploaded to the website in real time.
For further information please contact: